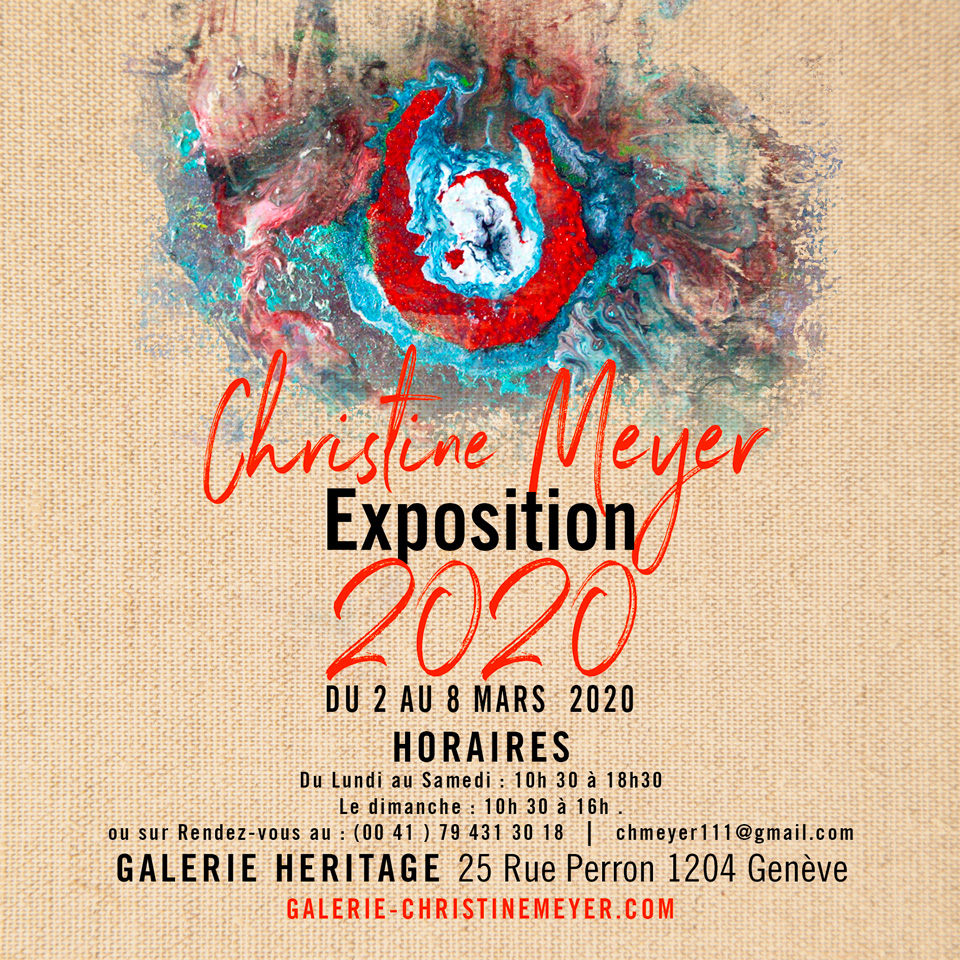 Expo 2020 Galerie Heritage
25 rue Perron – 1204 GENEVE
March 2 – March 8, 2020

Expo 2020 Galerie Heritage
25 rue Perron – 1204 GENEVE
December 3 – December 9, 2018
Opening Reception – Tuesday, December 4, 2018 10.30am-6.30pm
9 rue de l'Echaudé – September, 2016 – Paris 6
September 15 – September 29, 2016
Opening Reception – Thursday, September 15, 2014 10am-8pm
Christine Meyer, artiste autodidacte, cherche au travers de sa peinture à révéler l'indicible.
Elle vit ses créations dans une approche physique et intemporelle, comme un corps à corps, une danse tactile, une allégorie poétique où se dévoilent des nuances subtiles et imperceptibles.
Elle cherche au travers de son inconscient créatif, par la vibration de ses gestes, à figer l'instant présent sur le support pour en sonder le mystère. C'est dans ce contact avec la matière, ce jeu de lumières, de formes et de reliefs que se manifeste l'invisible, dont  l'intensité captive nos regards dans une réalité métaphorique.
"Poussières d'étoiles ", "Dédale", "Tourbillon", reflet miroir sur l'eau plane, volcan vermillon en fusion ; la lumière subliminale qui se dégage de ses œuvres nous transporte vers une réalité plus vaste. L'abstraction onirique de Christine reflète les grands espaces interstellaires et entraine notre imaginaire dans l'exubérance des nuances, la juxtaposition des teintes, de tons monochrome ou en opposition. Les couleurs se mélangent, s'entrechoquent et se contrastent, pour faire surgir des paysages irréels, des mondes fantastiques, des matières éthériques. Du chatoyant, au pastel, fusion d'or, au froid d'acier, sa palette de teintes varie au gré de ses pulsions ; ses tableaux sont des songes qu'elle exprime dans un rêve éveillé.
Cette explosion de couleurs et de matières ne laisse pas indifférent, car les techniques intuitives élaborées par l'artiste, sont insufflées par son âme profonde et laisse la magie opérer sur notre perception.
De nouveaux tableaux réalisés sur des plaques de verre sont exposés en avant-première
Christine Meyer vit depuis plusieurs années à Genève et consacre son temps à la peinture.
Ses œuvres ont été exposées aussi bien à New-York, qu'à Paris et à Genève, où son travail avec l'acrylique et les matières (résine ; sable ; mortier), rencontre un franc succès, de par son originalité et sa qualité.
Véronique Palisser 
March 4 – March 25, 2014
Opening Reception – Thursday, March 6, 2014 6-8pm
530 West 25th Street, New York, NY 10001
Tel: 212-226-4151 / Fax: 212-966-4380
Christine Meyer's graceful abstracts are refined, yet lit from within by a mysterious, unmistakable energy. Meyer works in mixed compositions made from textures coming together. Each painting features one or two large-scale shapes – a wide central circle, an oval-shaped rupture in an otherwise blank field – that are then filled out and characterized by different, delicate treatments of material.
Meyer creates the textures out of her many diverse materials, and then creates the movementof each piece out of those textures. Thus, acrylic paint applied with a sponge becomes a mass of soft, ghostly speckles that drift and billow accross the canvas. Beads glued down in large, dense swaths become a grounding point for a larger torrent of color that comes rushing accross the painting. With a cool palette that relies on subtle rather than violent shifts, Meyer creates a word of contemplation and ambiguity.
Christine Meyer has exhibited in both Geneva and Paris. She works in acrylic, resin, mortar, sand, and beads, among other media.